Accessories
If you're looking for just a little accessory and not a big bag, then here are some ideas!
---
Cool Mystery Braid Bracelets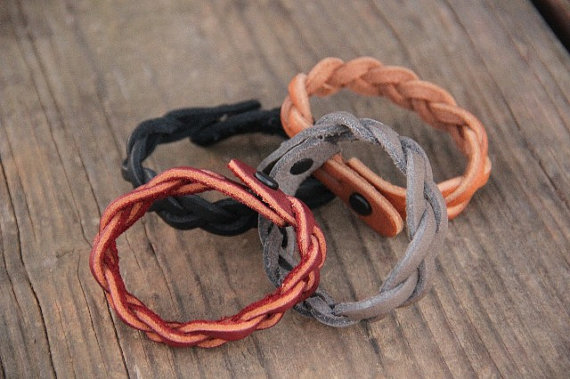 Have you been looking for a little something to decorate your wardrobe? Or maybe you're looking for a gift for someone you know. We've got a great option for you here! Take a look at our hand-braided (by Kathleen) Mystery Braid Bracelets! These bracelets can add a great little twist to your attire! 😉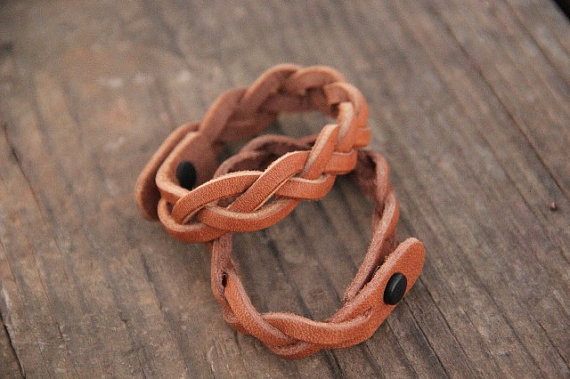 Each bracelet is also oiled/waxed for protection.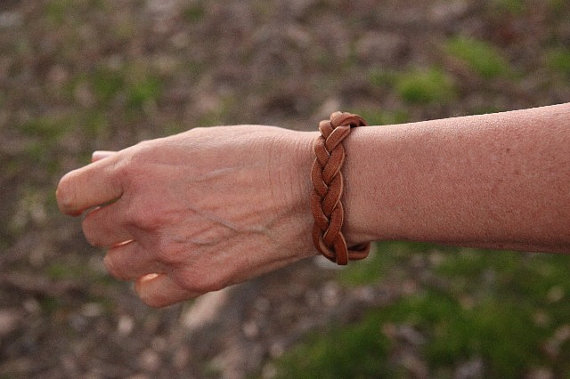 Each one has a snap for closure and measures about 8 – 8 ¼ inches long and a little over ½ inch wide. Current color choices available, hopefully, coming soon.
Only $15.00, plus shipping for these little bracelets! And contact us if you have any questions!
---
Super Soft Deer Skin Drawstring Pouch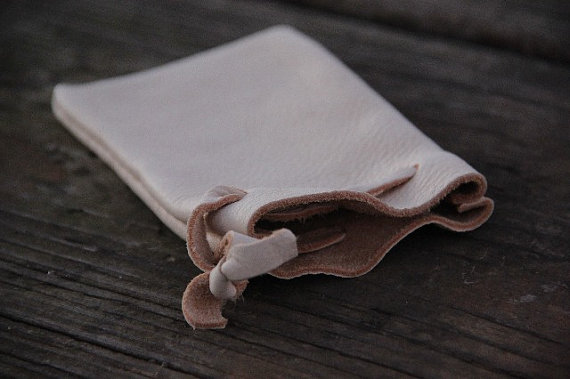 What is super soft, beautiful and practical? Put it all together and you've got one of our unique draw string, deer skin bags! Use one of these bags to hold your little essentials, to tote along in your pocket, purse, or backpack.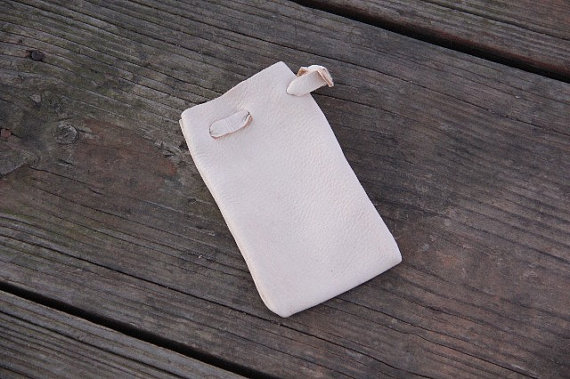 The bag's overall size is almost 6 inches long and a good 3 inches wide. The leather has a buttery feel making it so lovely to the touch. And the color is such a beautiful white/tan.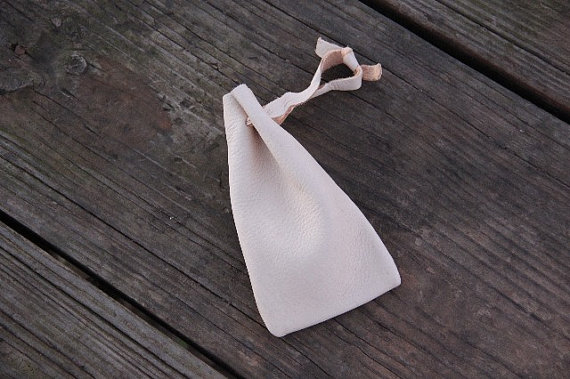 Seams are handstiched by Kathleen.
$20.00, plus shipping! Let us know if you have any questions!
---
Set of Four Cute Flower-Stamped Leather Coasters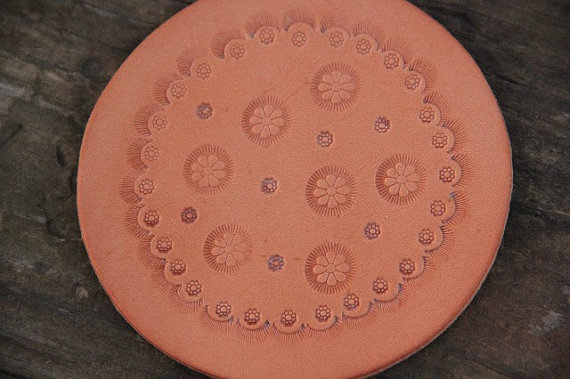 Our little flower-stamped leather coasters are perfect for the home, to protect your wood surfaces from liquid residue. And each coaster has been given a special blend of oils and waxes, to protect it from excessive water damage. These coasters are intended for use!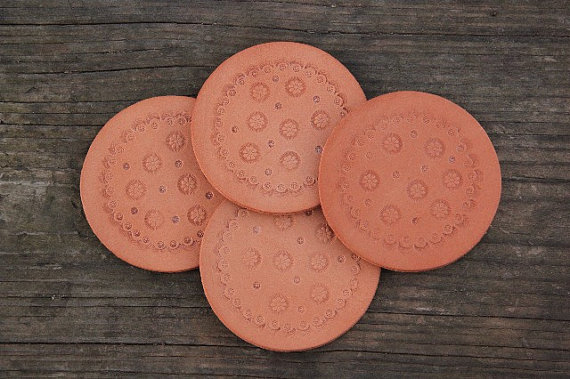 Adorable little flowers and textures have been stamped on the leather by hand (by Kathleen), using special leather tools.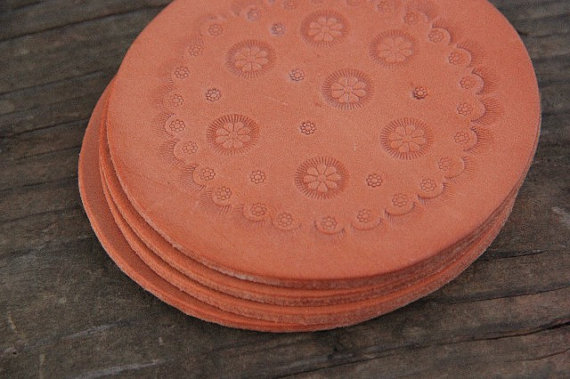 This set includes four coasters that are each approximately 3 ¾-inches across.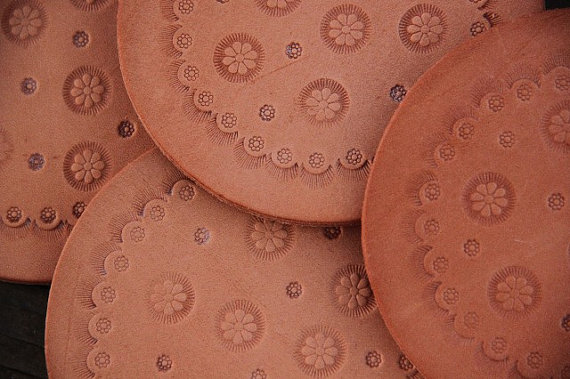 Buy one of our sets of cutesy, flower, leather coasters to spruce up your home, or give as a gift, to brighten someone's day. Thanks for shopping at Ike's Outfitters! Let us know if you have any questions!
$15.00, plus shipping, for the set.
---
Small, Cute Ladies Handmade Cloth & Leather Wallet Clutch w/Leather Pocket For Guitar Pick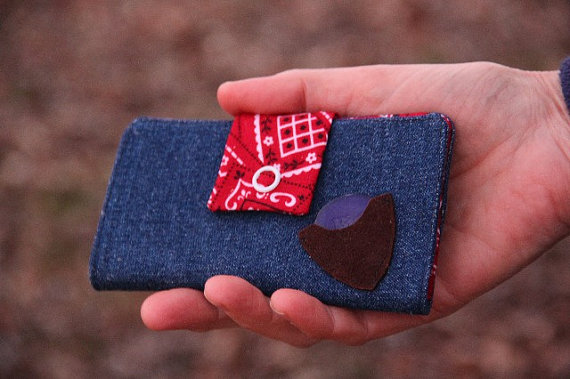 This little ladies wallet is super cute and handmade right here in Alabama by Kathleen!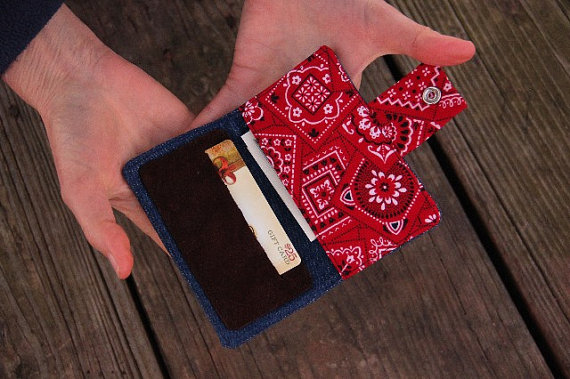 It feautures a medium-dark blue denim back, red and white bandana inside pocket and closure flap, leather inside pocket and card holder, and a little leather pick holder on the front. Wallet closes using a snap.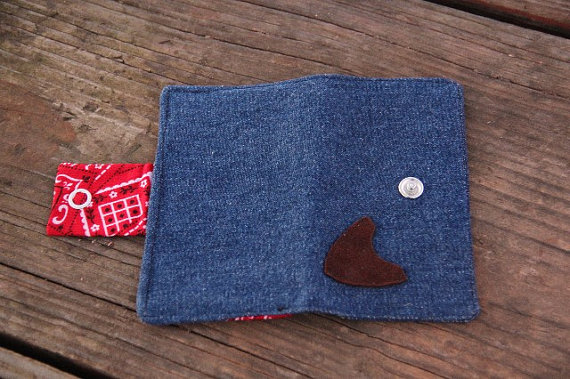 Wallet measures approximately 5 inches by 2 ¾ inches when closed, and about 5 ¾ inches wide when open.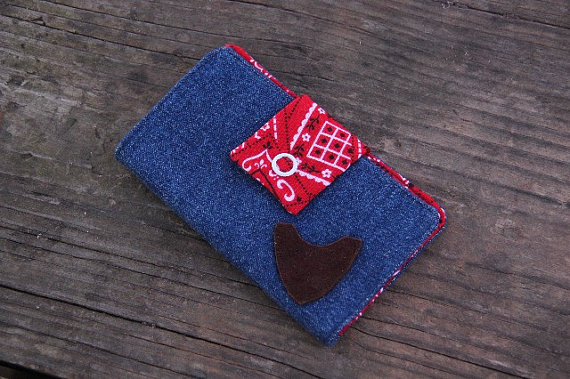 Are you a guitar picker? Or do you know someone who is? Thank you for considering our cute little handmade ladies wallet! Note: pick and gift card not included. 🙂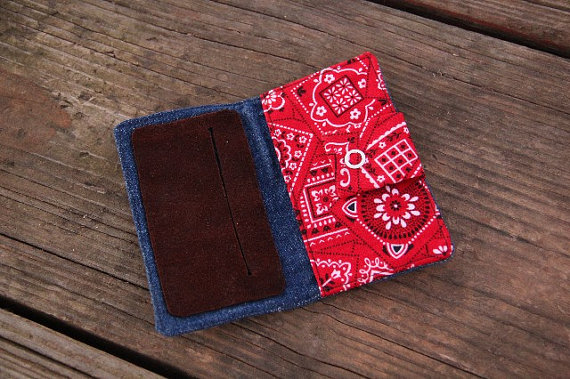 $20.00, plus shipping.
---